How to fight porn addiction
So, you want to know how to fight porn addiction? Here is a set of still more ideas. There is no shortage of good ideas on GYE, that we have culled for you from various professionals. But you still have to take the action. Now!
Fighting a pornography addiction is not easy. In one of my research studies I asked individuals who were attempting to stop viewing pornography to respond to the following statement:
"I have been doing well in my efforts to quit looking at pornography,
but it is a lot harder than I thought it would be."
Well over 50% of them acknowledged that it was a lot harder than they thought it would be. Over the years, I have observed hundreds of individuals attempting to quit viewing pornography. Some of them have cried in my office because they simply couldn't stop. They felt helpless in their efforts to quit viewing it. None of us like feeling out of control.
If you want to reclaim your life, it is going to require a lot of hard work and effort. Hard work is not something to be discouraged by, rather look at this as an opportunity to achieve something hard. You are going to prove to yourself that you can do hard things.
Consider the following image: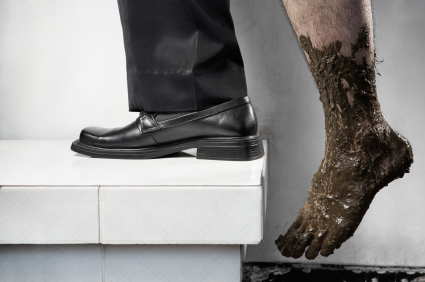 This is what you are trying to do. You are attempting to step out of the mud and into a clean world where you can reach your full potential. Pornography has prevented you from achieving your full potential. It may have destroyed your confidence. At times you may feel helpless and hopeless like you will never get out of the mud—this is the lie. You can quit. You can reclaim control of your life.
So how can you begin your fight against pornography addiction?
Here's five steps you can take to fight your battle against pornography.
Step #1: Get Prepared
The first step is to prepare yourself for success. How can you prepare? Here's a short list:
Assess your readiness to change. I have written a short assessment that evaluates your readiness for change. You can find it at "Are You Ready to Break a Porn Addiction." Once you have completed it, you will have a better feel for your readiness to change.
Next, I would encourage you to take the Pornography Addiction Assessment. More than 5000 men and women have completed this online assessment. When you have completed it, you will have a feel for your level of involvement in pornography. This information will help you understand the extent of your challenge ahead. The higher your level of involvement, the more energy and effort you will need to succeed.
Another way to prepare is to discover your triggers. In other words, you will want to know when you are most vulnerable. In my book "Treating Pornography Addiction" I recommend that individuals increase their awareness by identifying their most vulnerable times—by doing this they discover when they are at greatest risk. This helps them see the patterns that lead them to relapse.
In my first session with clients struggling to stop viewing pornography, I ask them what they have done in an effort to quit viewing pornography. Rarely do my clients describe identifying their triggers. It is almost impossible to change a behavior like pornography if you aren't aware of the triggers that lead to relapse.
Step #2: Rediscover Yourself
What does it mean to discover yourself? In many instances pornography has taken control of your life. You have forgotten about true joy and happiness. You may have stopped participating in events and activities that you used to enjoy. When my clients succeed it is primarily because they have found themselves again. They realize that they are not the bad, evil, rotten person that pornography made them feel like.
For some reason, pornography is a destroyer of joy. It is what I call a joy killer. You weren't created to feel horrible or rotten about yourself. Rather you have incredible potential to be a person who shares and gives and loves. As you understand this concept you will find more resolve to stop viewing porn and instead find true joy and happiness in life.
Step #3: Find and Create True Intimacy
One of the most critical elements of recovery is discovering true intimacy. Porn taints intimacy. In many instances, it prevents and even destroys intimacy. This creates a very big problem—since most humans long for a deep intimate relationship. In an effort to explain how pornography influences intimacy, I wrote a special report titled, "Addiction and Intimacy". In this article I discuss how addictions destroy intimacy and I conclude with specific suggestions on how individuals can rediscover true intimacy in their life and relationships.
If you would like to read an article on ways to improve the intimacy in your life, here's a link to a short article titled "Relationship Intimacy: Are You Ready for More?" This article talks about different types of intimacy that will be important for you to learn as you begin to succeed.
Intimacy is probably not something that you are enjoying yet in your life. My research indicates that pornography use has a significant impact on individuals trapped in pornography as well as on their partner. I discuss this in-depth with my colleague Geoff Steurer in our CD Series "Strengthening Recovery Through Strengthening Marriage"
Step #4: Find Social Support
In the next step in your recovery you will want to find social support. My research shows that individuals who reach out for help are more likely to succeed. What exactly does support look like? It comes in the form of 12-step groups, getting a sponsor, connecting with friends, and/or talking with a religious leader. Each of these critical supports should be aware of your progress. You should be open and honest with them about your recovery. Reaching out for support is so critical that I can tell you that I have never seen someone succeed without it. If you develop a team of supporters, your chances of success will increase significantly.
Step #5: Keep Learning and Growing
Your success will not happen overnight. It is very important to continue learning. Here are four things that you will want to continue doing as your recover.
First, learn from mistakes. Most people relapse. Don't give up when you do. Instead, learn from the mistake. Identify what happened and what you could have done differently. As you do this you will want to tell the people of your support network what happened and what you will do differently next time. This powerful tool makes you accountable and will help you eliminate one more barrier.
Second, continue to build upon your knowledge. In reading this article, you are demonstrating a desire to learn. There are many books, resources, counselors, groups, and educational classes that you can take to improve your life. I often recommend that my clients become experts on the recovery process. I encourage them to study and read from good books—not just pornography related. Knowledge is power.
Third, develop your skills and talents. Recovery is more than just stopping a behavior—it is creating a new you. Take the time to discover your true talents. If you are an athlete, get involved in sports. If you are an actor, do a play. If you are a writer, write. If you are someone who enjoys serving others, give to others in your community.
In conclusion, if you want to truly fight porn addiction, carefully following the steps outlined here will get you started. Remember that true change will require time and effort. As you put in this effort, you will reap the rewards of reclaiming your life.