Finally: A solution for one of the biggest challenges facing Klal Yisrael

Today with the internet in every pocket, we risk losing the battle.
This kedusha crisis is unique to our generation and has wreaked havoc on untold families and individuals. One organization is determined to find a solution and has already helped thousands.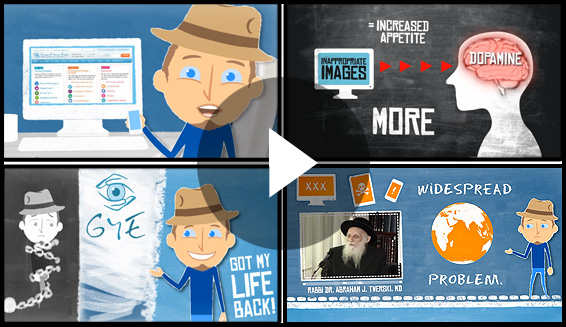 Can there be a greater merit for the Yomim Noraim than sharing the zechus of the teshuvah of thousands?

Dear Friend,
We make an appeal only once a year during the Yomim Noraim (High Holidays).
A donation to GuardYourEyes is not just another Tzedaka - it has historical ramifications. For 3,000 years, the Jewish people have been able to preserve standards of kedusha, but today with the internet in every pocket, we risk losing the battle.
GuardYourEyes has risen to the challenge by offering cutting-edge innovative solutions that really work, and has already helped thousands to break free while helping protect thousands of others from falling in.
But there's a great deal more to do and we need your help to turn the tide. With your help we can reach every Jew who is suffering in silence, and prevent new neshamos from falling in.
...At a certain point I realized that I had lost control of myself, and I knew that if I keep it up I'll lose and ruin my family, as well as my life both Ruchnius & Gashmius. I decided to stop, but I failed and failed till I found Guardyoureyes. B"H now 8 months later, I can thank Hashem & GYE for saving my life..
- Chaim
We invite you to explore our vast network of
treatment and prevention:
TREATMENT: (12,000 active registered members, 200,000 unique visits)
• Guardyoureyes.com - Helping thousands break free
• Gye.org.il - Hebrew GYE network
• Gye.org.es - Spanish GYE network
• Guardyoureyes.fr - French GYE network
• Guardyoureyes.com/yid - Yiddish GYE network
• Fightthenewdrug.org.il - Branch for Israeli secular teens
PREVENTION & PROTECTION:
• Venishmartem.com - Find the best filters for any device!
• Venishmartem.co.il - Hebrew Site for Filters
• Filterthon.com - Community events to get filters installed for free
• Atid1.org.il - Israel lobbying campaign to pass an internet filtering bill
• Gye prevention - Shmiras einayim & resources for parents & educators
• Webshadow.org - Innovative reporting sofware for parents and schools
---
There are 1000's of chessed, torah and kiruv institutions doing great work, but there is only one organization battling the kedusha crisis on every front, by providing treatment for those already drowning and prevention to protect others from falling in.
1000's
1000's
1000's
1
Chessed
Orgs
Torah
Orgs
Kiruv
Orgs
Kedusha
Org
We are still in urgent need of funding to extend, advertise and maintain our networks. (See link below for our 2014-15 budget).
Can there be a greater merit for the Yomim Noraim than partnering in the teshuvah of thousands and helping uphold the holiness of the Jewish nation?
Wishing you a G'mar Chasima Tova and a year of holiness and blessing!
We thank you for your partnership.
DONATE SECURELY HERE
Anonymous donations possible. To donate by phone or check, see below. Tax deductible
Gratefully,
Yaakov & Yechezkel
www.guardyoureyes.com
www.venishmartem.com
I was in denial for many years thinking that this hobby was "no big deal", and even if it was a real problem I felt it was impossible to overcome. I was referred to this site by a close friend in passing, and after spending some time on the site I came to the realization that if all these members can do it, then I can too.
- Yossi
Checks can be made out to: "Guard Your Eyes" and mailed to:
GYE Corp. P.O. Box 32380 Pikesville, MD 21282 U.S.A.
Donations by phone (24 hours a day): 718-878-3075
Who knows how many lives you can affect? Please share this email!

Letter From Trustees | Rabbinical Endorsements | Mishpacha Magazine Article
Download the GYE Brochure | Download the Venishmartem Brochure
GYE Budget

Watch a video about our work @ http://youtu.be/oKzqYw2DA0k